« Slowly, Slowly into the Morass We Return (Updated) | Be Saudi: Hire a Saudi »
July 26, 2006
Vital reading
Sadly not yet available for review in Aqoul's books section, but certainly sorely needed by many international policymakers: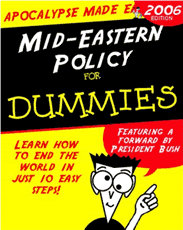 From a secret arabian journal: redux.
Also extremely useful: a guide to who-hates-who in the Middle East:
From Slate.com via Grapeshisha.
Posted by secretdubai at July 26, 2006 12:51 PM
Filed Under: Foreign Policy & MENA
Trackback Pings
TrackBack URL for this entry:
http://www.aqoul.com/movabletype/mt-tb.cgi/2838
Comments
That Slate chart was posted on the Dope. Neat stuff.
As for ending the world, I'll pass. I'd rather have a 10-step plan towards taking it over.
The taxes would be low, because really, how much would it take, spread out among everyone on the planet, to keep me in a nice house, a decent vacation cottage, a few full time maids and gardeners, a couple of Rolls Royces, and a yacht with a submarine and a pad for my helicopter?
Not much at all.
Posted by: pantom at July 26, 2006 09:57 PM
pantom, that chart brings to mind the corresponding story in the eXile. The charts are definitely what made the article - the Central Europe chart is my favorite.
Posted by: Eva Luna
at July 26, 2006 11:06 PM
dear sp,
i'd seen the chart when it made its rounds in the blogosphere a few days ago. it's ... cute. but it's terribly inaccurate if not misleading.
particularly the claim that and explanation of "lebanon & hamas: friends" is pure crap. ditto the 'explanations' (if one can even call them that) for "al-qa'idah & hamas: friends", "hezbollah & iraq: ?" and some others as well.
cute graphics, though.
--raf*

Posted by: raf* at July 27, 2006 04:16 AM
Actually, having looked at that book in a Borders once, it looks like our leaders have it and are using it. It read kind of like "Middle East, for Dummies, Tel Aviv Version."
Posted by: Abu Sinan at July 27, 2006 07:19 AM
Eva -
Love the Albanian attitude on chart.
Posted by: matthew hogan at July 27, 2006 07:46 AM
Um, raf, it wasn't me that posted the chart.
I wouldn't be surprised if its kindergarten-ish simplicity made it very useful at the highest levels of American government, if you know what I mean.
Posted by: SP at July 27, 2006 08:41 AM
Sadly, the administration is much more interested in books like The Politically Incorrect "Guide" to Islam and the Crusades, The Arab Mind, and anything Bernard Lewis scribbles on a cocktail napkin.
In addition to recommending books, I would enjoy a new 'Aqoul section that tears apart books one shouldn't read on the MENA region. It would be hilarious to read Lounsbury-style reviews of such tripe but it would also help solve the problem of ignorant people turning to Amazon to pick whatever is most popular on the Middle East, which is uniformly garbage. I mean really, if I receive one more Daniel Pipes book from well meaning relatives it'll be jihad on them!
Posted by: Djuha at July 27, 2006 12:38 PM
Would love to indulge you, but I find book reviews boring to write.
Posted by: The Lounsbury at July 27, 2006 01:42 PM
Posted by: John Burgess at July 30, 2006 09:53 AM
Comment Subscription