« Public Service Announcement No. 1: aljazeera.com still not al Jazeerah. | Lebanese Media: As-Safir, Intro and August 31 »
August 30, 2005
Veiling the lady
Fascinating look at East/West advertising differences by Ivan on Creative Bits: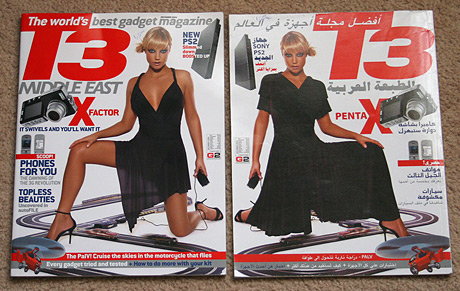 Visit for many more examples.
Posted by secretdubai at August 30, 2005 01:46 PM
Filed Under: Media
Trackback Pings
TrackBack URL for this entry:
http://www.aqoul.com/movabletype/mt-tb.cgi/1989
Comments
Well, it would be more fascinating were he not confusing Gulfie market for the entire Middle East.
Natural enough, given the buying power weighting and influence, but his examples are clearly Gulf driven and certainly not applicable in the Maghreb or even much of the Sham.
Posted by: The Lounsbury at August 30, 2005 02:20 PM
Well to be fair "Middle East" doesn't usually include the Maghreb.
I remember when I was in Saudi Arabia the National Geographic came in an open sleeve "envelope", for easy censorship (usually just pages ripped out). The issue on Arabian women didn't make it to us at all.
Posted by: zurn at August 30, 2005 10:24 PM
Sometimes it does, sometimes it doesn't but regardless it certainly includes the Sham / Levant and Egypt.
His commentary is very true for the Gulf, far, far less true for outside the Gulf.
Mind you, it's a good comment, and useful, but I get a bit annoyed with people mistaking Gulf as Middle East.
Posted by: The Lounsbury at August 31, 2005 07:21 AM
Comment Subscription